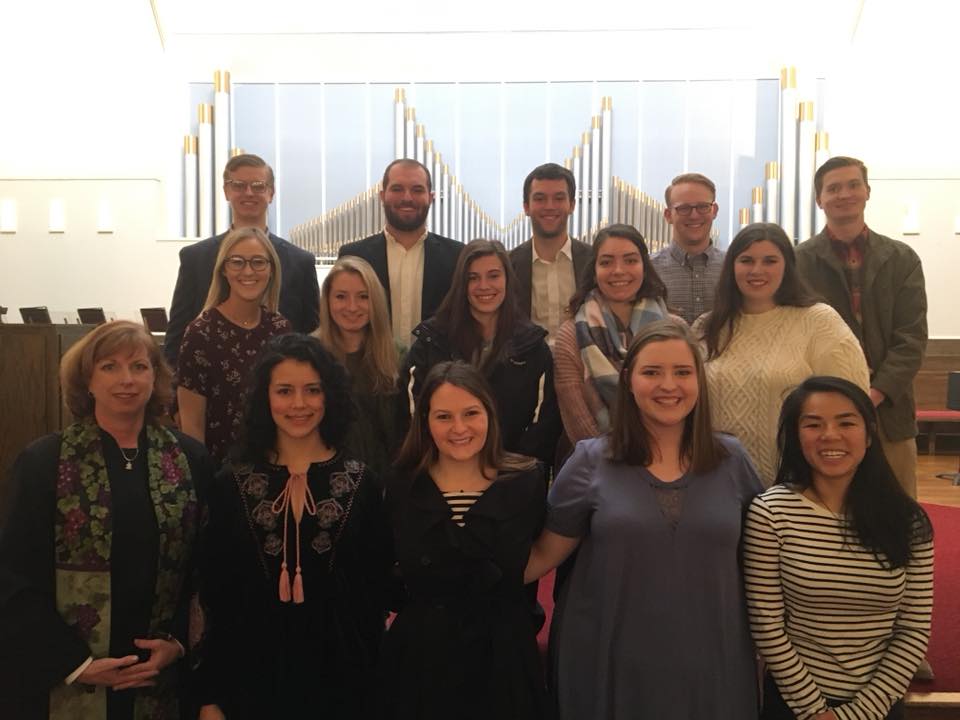 UCM Students Led Worship At First United Presbyterian, Fayetteville 
United Campus Ministry Connections
February 2018
Lilly Intern Spotlight – Zane
Zane is a junior from Ashdown, Arkansas, majoring in Economics, with a concentration in International Economics and Business. He is planning to go on to law school after college. He became involved in the ministry last fall at the invitation of his friends Bax and Luke. Zane really connected during Dinner and Discussion on Thursdays and often brought friends along as well. He volunteered during our Friendraising event this fall and has really jumped into the ministry with both feet.
Please read more about Zane on our blog.
Congratulations to Teila 
We are celebrating that Teila Creekmore, U of A Senior and Lilly Leadership Initiative intern, has been accepted into the Young Adult Ministry Scholar program at the University of Dubuque Theological Seminary (UDTS).
Teila will begin her studies at UDTS in the fall studying for a Master of Arts in Mission and Discipleship.
This program provides 100% tuition scholarship plus free on-campus housing.
Scholars participate in a structured program which prepares them for ministry by:
Teaching courses for first-year undergrads
Developing relationships and programs to welcome international students
Taking on responsibilities within residential life
Planning activities that promote interfaith conversations
Leading Bible studies and music teams in chapel services
Watch for our April Ministry Connections where we will feature all three of our students who will begin seminary in the fall.
Lilly Interns Shared at SHYC
 Two of our Lilly interns, Luke and Katie, traveled with Susan Rose to Texas for the annual Senior High Youth Connection, a weekend retreat for High School youth from congregations in Grace Presbytery.
They set up a table and sat with high school students at lunch to share with those planning or considering coming to the U of A all about our ministry.
They made great connections and we are so glad that our Lilly interns are leading the way in reaching out to the many Texas youth who come to the U of A.
The Birthday Fund Is Here
In January, we launched the Birthday Fund for the Endowment.  We have invested nearly $30,000 in a Texas Presbyterian Foundation endowment and one of the ways we plan to build this endowment is through the celebration of birthdays.
We encourage all alumni and friends of the ministry to consider celebrating their love for UCM and for college ministry by investing the amount of their age toward the future of the ministry.
David Mills joined Susan Rose and Kristi Button in celebrating their January 21st shared birthday!  We all donated the amount of our age and made an investment of $133 in UCM!!
We invite all Friends with February Birthdays to honor your special day and another year of life by supporting the Engaging, Equipping and Empowering Ministry of UCM.
Link to Online Giving
SAVE THE DATE
Our annual student-led Bike-a-thon is set for April 21 this year.
Our alumni and friends, who either enjoy biking or supporting those who bike, are invited to put this on your calendar now.
Ride with us, help at a rest-station, or help with our finish line celebration.
We will have a family fun ride for those who think 5 miles is more their speed.
Our full ride will be 20 miles along a portion of the Razorback Greenway.
For those for whom 20 miles is a breeze, we will set you up for an even longer ride, which will conclude at our finish line celebration.
Riders are asked to find sponsors for their ride so that our day of fun is a great fund-raiser to support the future of our ministry at UCM.